Prostate Cancer is the #12 killer of American men.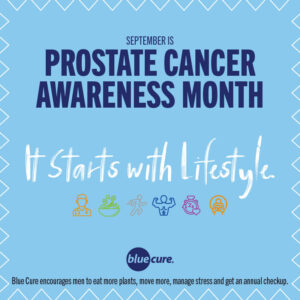 Estimated 2022 Diagnoses and Deaths? (ACS)
268,490 estimated new cases, male (2022)
34,500 estimated deaths, male (2022)
Ways to reduce your Prostate Cancer risk:
ACS: Can Prostate Cancer Be Prevented?
There is no sure way to prevent prostate cancer. Many risk factors such as age, race, and family history can't be controlled. But there are some things you can do that might lower your risk of prostate cancer.
1. Body weight, physical activity, and diet
2. Vitamin, mineral and other supplements
3. Medicines
4. 5-alpha reductase inhibitors
AICR: What are the Lifestyle-Related Risk Factors for Prostate Cancer?
Weight
• There is strong evidence that being overweight or obese increases the risk of advanced prostate cancer.
• Obesity influences the levels of a number of hormones and growth factors. Insulin and leptin are elevated in people with obesity and can promote the growth of cancer cells.
• Sex steroid hormones, including estrogen, androgen, and progesterone, are likely to play a role in obesity and cancer. In men, obesity is related to lower serum testosterone levels, which in turn may be associated with enhanced risk of or adverse outcome in advanced prostate cancer.
• Obesity is characterized by a low-grade chronic inflammatory state. Such chronic inflammation can promote cancer development.
How Can You Lower Your Risk of Developing Prostate Cancer?
• Monitor and maintain a healthy weight
• Men who are obese, or have a high BMI, are more likely to have prostate cancer, so it's important to keep an eye on your weight. If you are classed as overweight or obese, losing weight will help reduce your risk of prostate cancer. This can be achieved through a combination of healthy eating and regular exercise.
• Be a healthy weight
American Institute for Cancer Research
Resources for Prostate Cancer help:
Centers for Disease Control and Prevention (CDC): Prostate Cancer
https://www.cdc.gov/cancer/prostate/index.htm
National Cancer Institute (NCI): Prostate Cancer
https://www.cancer.gov/types/prostate
American Cancer Society (ACS): Prostate Cancer
https://www.cancer.org/cancer/prostate-cancer.html
American Institute for Cancer Research (AICR): Prostate Cancer
https://www.aicr.org/research/the-continuous-update-project/prostate-cancer/
American Association for Cancer Research (AACR): Prostate Cancer
https://www.aacr.org/patients-caregivers/cancer/prostate-cancer/
U.S. Department of Defense – Congressionally Directed Medical Research Programs (CDMRP)
https://cdmrp.army.mil/pcrp/default
MaleCare
https://malecare.org/
Prostate Cancer Foundation
https://www.pcf.org/
Answer Cancer Foundation (AnCan)
https://ancan.org/
CanCare
https://www.cancare.org/
NutritionFacts.org
http://www.nutritionfacts.org/