Diabetes is the #7 killer of American men.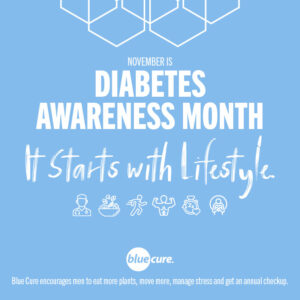 95% – (CDC) 95% of diabetes is type 2 diabetes, which can be prevented or delayed with lifestyle change.
90% – (Harvard T.H. Chan School of Public Health) The good news is that prediabetes and type 2 diabetes are largely preventable. About 9 in 10 cases in the U.S. can be avoided by making lifestyle changes.
Ways to reduce your Diabetes risk:
You can prevent or delay type 2 diabetes with proven, achievable lifestyle changes—such as losing a small amount of weight and getting more physically active—even if you're at high risk. (CDC)
Simple steps to lowering your risk –
Control your weight
Get moving—and turn off the television
Tune Up Your Diet
Choose whole grains and whole grain products over refined grains and other highly processed carbohydrates.
Skip the sugary drinks, and choose water, coffee, or tea instead.
Choose healthy fats.
Limit red meat and avoid processed meat; choose nuts, beans, whole grains, poultry, or fish instead.
Don't smoke
Light to moderate alcohol consumption
(Harvard T.H. Chan School of Public Health)
NIDDK: How can I lower my chances of developing type 2 diabetes?
Research such as the Diabetes Prevention Program shows that you can do a lot to reduce your chances of developing type 2 diabetes. Here are some things you can change to lower your risk:
Lose weight and keep it off. You may be able to prevent or delay diabetes by losing 5 to 7 percent of your starting weight. For instance, if you weigh 200 pounds, your goal would be to lose about 10 to 14 pounds.
Move more. Get at least 30 minutes of physical activity 5 days a week. If you have not been active, talk with your health care professional about which activities are best. Start slowly to build up to your goal.
Eat healthy foods most of the time. Eat smaller portions to reduce the amount of calories you eat each day and help you lose weight. Choosing foods with less fat is another way to reduce calories. Drink water instead of sweetened beverages.
(National Institute of Diabetes and Digestive and Kidney diseases, NIH)
Resources for Diabetes help:
Centers for Disease Control and Prevention (CDC): Diabetes Basics | https://www.cdc.gov/diabetes/basics/index.html
Centers for Disease Control and Prevention (CDC): Diabetes and Men | https://www.cdc.gov/diabetes/library/features/diabetes-and-men.html
American Diabetes Association | https://www.diabetes.org/