Colorectal Cancer is the #13 killer of American men.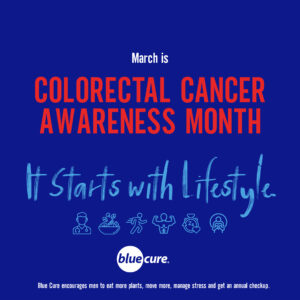 Estimated 2022 Diagnoses and Deaths? (Colorectum, ACS)
80,690 estimated new cases, male (2022)
28,400 estimated deaths, male (2022)
Ways to reduce your Colorectal Cancer risk:
There's no sure way to prevent colorectal cancer. But there are things you can do that might help lower your risk, such as changing the risk factors that you can control.
Colorectal cancer screening
Body weight, physical activity, and diet
Not smoking
Vitamins, calcium, and magnesium
ACS: Diet: Overall, diets that are high in vegetables, fruits, and whole grains, and low in red and processed meats, probably lower colorectal cancer risk, although it's not exactly clear which factors are important. Many studies have found a link between red meats (beef, pork, and lamb) or processed meats (such as hot dogs, sausage, and lunch meats) and increased colorectal cancer risk.
In recent years, some large studies have shown conflicting evidence that fiber in the diet probably lowers colorectal cancer risk. Research in this area is still under way. Recent studies looking specifically at whole grain intake, however, show that colorectal cancer risk appears to go down as you add more whole grains to your diet.
Limiting red and processed meats and eating more vegetables, fruits, and whole grains may help lower your risk.
AICR:
Excess body fat is one of the strongest factors that increases risk of Colorectal cancer.
Eating whole grains and foods containing fiber lower risk.
Consuming processed meats and high amounts of red meat is a cause of colorectal cancer.
Drinking 2 or more alcoholic drinks daily is a cause of this cancer.
Daily moderate physical activity reduces the risk.
(American Institute for Cancer Research)
Resources for Colorectal Cancer help:
Centers for Disease Control and Prevention (CDC): Colorectal Cancer | https://www.cdc.gov/cancer/colorectal/index.htm
National Cancer Institute (NCI): Colorectal Cancer | https://www.cancer.gov/types/colorectal
American Cancer Society (ACS): Colorectal Cancer | https://www.cancer.org/cancer/colon-rectal-cancer.html
American Institute for Cancer Research (AICR): Colorectal Cancer | https://www.aicr.org/research/the-continuous-update-project/colorectal-cancer/
American Association for Cancer Research (AACR): Colorectal Cancer | https://www.aacr.org/patients-caregivers/cancer/colorectal-cancer/
Colorectal Cancer Alliance | https://www.ccalliance.org/
Colon Cancer Coalition | https://coloncancercoalition.org/
Fight Colorectal Cancer | https://fightcolorectalcancer.org/
Fight Colorectal Cancer | LGBTQ + | https://fightcolorectalcancer.org/blog/lgbtq-cancer-resources/
Answer Cancer Foundation (AnCan) | https://ancan.org/
CanCare | https://www.cancare.org/