Breakfast options just got a little tastier! These oil-free, vegan waffles are easy to make and absolutely delicious. They have been taste-tested on a large crowd ranging from 3- 86 years old— and let me tell you, they were a crowd pleaser. The best part of all, the waffles are healthy too! You read that right, healthy, crowd pleasing, recipe. Whole wheat flour, applesauce, and plant-based milk are the main ingredients in these waffles. Swap in chickpea flour for the whole wheat flour for a higher protein, gluten-free alternative. Top the waffles off with cashew cream, berry chia jelly, and fresh fruit for more healthful, tasty flavors.
For those of you without waffle makers, I am sure this would make a wonderful pancake recipe too!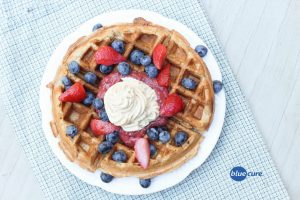 Pictured above: whole grain waffles with strawberry chia jelly, and cashew cream.
Ingredients
1 cup whole wheat flour, whole wheat pastry flour, or chickpea flour
2 teaspoons baking powder
1/2- 1 teaspoon ground cinnamon
1/3 cup unsweetened applesauce
3/4 cup unsweetened plant-based milk
1 teaspoon vanilla extract
Want More?
Follow us for health and recipe tips
Instructions
Plug in the waffle maker and turn to medium-high heat. If using chickpea flour, you will want to use a lower setting.
In a small bowl, mix together the dry ingredients: flour, baking powder, and cinnamon.
In a separate bowl, combine the applesauce, plant-based milk, and vanilla.
Pour the wet mixture into the dry mixture and stir until well-combined.
Follow the instructions of your waffle maker (mine has a light and beeper for when it is ready); you may also need to lightly oil your waffle iron. When the waffle maker is ready, pour 1/3-1/2 the batter into the middle of the iron and work it towards the edges. Cook until desired texture and repeat until the batter is gone.
Top the waffles with cashew cream and berry chia jelly for healthy, flavorful toppings.*
Enjoy!
Note: To get the cashew cream to look like whipped cream: soak the cashews in water for several hours. Drain off the water and then pour into a blender. Use 2 Tbsp- 1/4 cup water for every 1 cup of cashews. Blend until smooth. You will need cake decorating tips and a tube. Scoop the frosting into the tube, and then top onto your waffles.