Many store-bought ranch dressings are loaded with additives and artificial ingredients. They often contain oils and sugar too. Making your own homemade ranch is simple, and delicious! We also have a cashew-based ranch and a pumpkin-seed based ranch on the website. This ranch  is made with tahini, a sesame seed paste.
Enjoy it with one of our salad combos, or mix it up! Serve it on top of roasted potatoes and cooked veggies. We included a recipe below for you! Enjoy!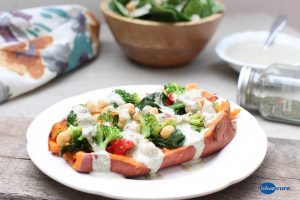 Ingredients
RANCH:
1/4 cup tahini
1-2 tablespoons lemon juice
1-2 garlic cloves
1 tablespoon ground flaxseed
1 date, pitted
2 tablespoons parsley
2 tablespoons dill
1/2- 1 cup water, adjust to desired texture
SWEET POTATOES:
4 sweet potatoes
1-2 (15 oz ) can of chickpeas
1 large onion, diced
2 cups broccoli, chopped
1 large tomato, chopped
3-4 cups kale, chopped
Want More?
Follow us for health and recipe tips
Instructions
RANCH:
Combine all the ingredients together in a blender. Blend until smooth. Adjust water to desired texture. Start with less and add more as needed.
Serve dressing over green salads.
SWEET POTATOES:
Preheat the oven to 400F. Roast the sweet potatoes for 40-60 minutes, or until desired texture.
Drain the chickpeas. Line a pan with parchment paper. Roast the chickpeas for 30-40 minutes or until desired texture.
Wash and chop the veggies.  In a pan, sauté the onion in a splash of water until translucent. Add in the broccoli, cook until tender. Just before finishing, add in the tomatoes and kale. Cook until desired texture.
Stuff the potatoes with the veggies. Drizzle on the ranch dressing. Enjoy!
More Recipes
Discover more delicious recipes like this one.