Sweet and savory are two ways to describe this delicious sweet-potato, tempeh burger! The sweet potatoes make the burger slightly sweet, while the spices make it savory.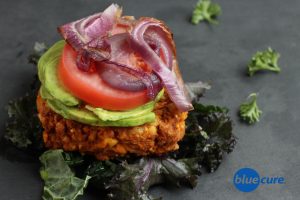 Veggie burgers can be made in so many different ways. Different kinds of beans, grains, potatoes, and spices will provide unique textures, tastes, and consistencies to the burgers.
Tempeh, a fermented soy food, is the bean used in this burger recipe. Tempeh is a good source of both protein and fiber.
Serve the burger on a whole grain bun, a bed of greens, or cooked quinoa! Top it with roasted veggies and avocado slices and enjoy!
Ingredients
1-1.5 cups cooked sweet potato
1 package tempeh (8 oz)
1 Tablespoon cumin
1-2 teaspoons paprika
½ teaspoon cayenne
2 teaspoons garlic powder
Pinch of black pepper
2 Tablespoons ground flaxseed
Pinch of water, if needed
Want More?
Follow us for health and recipe tips
Instructions
Cook the sweet potato if it's not already cooked. Once cooked, mash the flesh with a fork. 

Preheat the oven to 400F. In a bowl, break the tempeh into small pieces using the back of a fork. Add the spices, ground flaxseed, and mashed sweet potato. Fold and mash the mixture together until well combined. Add a splash of water if needed. 

Form the mixture into 4 patties and place on a pan with parchment paper. Bake the sweet potato for 20-25 minutes; be sure to flip the burgers half way through. 

Serve the burgers on top of a bed of greens or on a whole grain bun with avocado, roasted onions, greens, and tomatoes. Enjoy!
More Recipes
Discover more delicious recipes like this one.