Seitan is a great, high-protein meat alternative made from pure wheat gluten (found in whole wheat flour and breads). It is a great option for Meatless Mondays! When prepared, seitan is chewy which gives it a texture that resembles meat, not bread. Cook it with flavors, such as taco or Italian seasonings, and add to your favorite soups, stews, sandwiches, or dishes.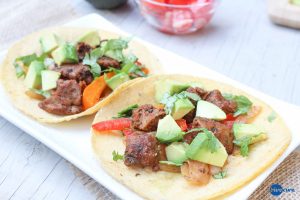 Ingredients
1/2-3/4 cup water
8 oz package of seitan
1 Tablespoon chili powder
1 Tablespoon dried parsley
1/2 teaspoon garlic powder
1 teaspoon cumin powder
1 onion
1-2 bell peppers
1-2 tomatoes
1-2 avocados
fresh cilantro
2-4 cups greens (e.g. Romaine lettuce, spinach, arugula)
Package of Corn or Whole Wheat Tortillas
Want More?
Follow us for health and recipe tips
Instructions
In a skillet, combine 1/2 cup water and seitan. Warm on medium-high heat. Cook the seitan until desired texture and then add the spices. Add more water as needed to keep from sticking.
Wash and chop the veggies.
In a pan, sauté the onions and the peppers until desired texture. (Note: the veggies can also be kept raw to cutdown on cook time).
Lightly warm the tortillas individuals on a pan.
Top the tortillas with ingredients and enjoy!
More Recipes
Discover more delicious recipes like this one.