If you aren't much of a veggie fan, perhaps explore different ways to cook and season vegetables. Roasting is simple and delicious way to prepare veggies. The prep time is minimal— wash and chop veggies. The most time is actually spent just waiting for the food is finished. So if you are a multi-tasker or busy doing housework, great! Pop those veggies in the oven– go read a book, finish some work, do a workout video in — but just be sure to pop your head in the oven every so often to make sure nothing is burning!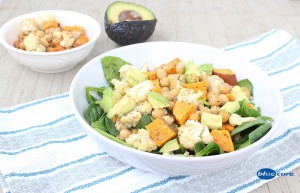 Ingredients
1 small head of cauliflower
1 large sweet potato
1 can chickpeas (or ~2 cups cooked chickpeas)
1 tbsp avocado oil or extra virgin olive oil
½ tsp garlic powder (or 2 cloves minced garlic)
Pepper (to taste)
1- 2 tsp dill, cayenne pepper, or chili powder (optional)
1 avocado
Want More?
Follow us for health and recipe tips
Instructions
Preheat oven to 400F. Wash the cauliflower and sweet potato. Dice the potato into 2 inch squares. Chop the cauliflower. If using canned chickpeas, drain and rinse.
Place cauliflower, sweet potatoes, and chickpeas on pan. Top with oil, garlic, and any other spices of choice (e.g. dill, pepper, cayenne, or chili powder). Roast for 40-50 minutes or until desired texture. Be sure to stir veggies often to avoid burning.
Serve on top of greens or cooked quinoa with sliced avocado.
More Recipes
Discover more delicious recipes like this one.