Some people like it sweet, some like it savory— whatever breakfast style you gravitate towards there are ways to make it healthier. These savory breakfast potatoes are packed with healthy carbs (from the potatoes and veggies) and protein. In fact, 1/6 of the recipe* has ~20 grams of protein and ~15 grams of fiber. Not only that, it's also loaded with phytonutrients from all of the tasty plant-based foods! A great way to energize your  day!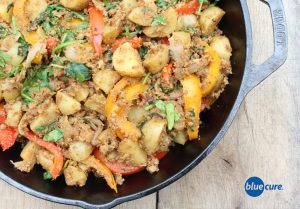 *If you choose to swap in lentils for meatless- ground "beef", fiber bumps up to 23 grams, and protein is ~16 grams.
Ingredients
2-3 cloves garlic (minced) 
1 large onion (thinly sliced) 
2 large bell pepper (thinly sliced) 
1.5 pounds baby potatoes- multicolored or white (chopped) 
1 package Meatless meat crumbles (such as "Beyond Meat") or 2.5 cups cooked lentils
3 cups kale (or other greens)
1.5 teaspoons cumin 
1 teaspoon chili powder (add more if you want it spicy)
Pepper (to taste)
¼ teaspoon salt
1 avocado
Want More?
Follow us for health and recipe tips
Instructions
Wash and chop the veggies. Sauté the garlic until golden brown, add the onions. Sauté the onions until they are soft, then add the peppers. Continue sauteing until the desired texture. Set aside in a bowl.

Place potatoes in a large pan. Add ½- 1 cup water. Start boiling the potatoes to soften them. Continue adding water as needed. Once potatoes are soft, start sautéing them with less water until desired texture.

Add the onion and peppers, as well as the meatless meat crumbles (or lentils) to the pan with potatoes. Mix in the spices and continue to sauté on medium heat. Add in the chopped kale.

Serve by itself, top with sliced avocado and salsa, and/or use on a whole wheat or corn tortilla for a breakfast burrito.
Note: To sauté without oil, keep a cup of water next to the stove while cooking. Pour in a little water at a time to help the vegetables cook and avoid overly sticking. Once the water has cooked off, pour a little more water in as needed– and continue repeating the process until the veggies are cooked. Try avoid drenching the food in water, as this will make the texture very soggy.
More Recipes
Discover more delicious recipes like this one.