Asparagus is a delicious vegetable that can be included in meals in a number of ways— roast it, sauté it, grill it. Add asparagus to pasta salads or green leafy salads, add it to Italian stir-frys, and more. These perfectly roasted aspargus have a lemony zing and peppery taste– perfect for spring and summer, or for brightening-up a cool winter day.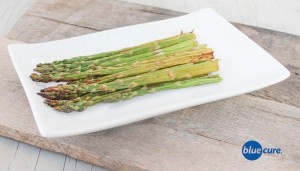 Ingredients
   20 large asparagus (or 25 small)
    1 tsp extra virgin olive oil (optional)
   1 Tbsp lemon juice
   1/2 tsp minced garlic (or 1/4 tsp garlic powder)
   1/2 tsp black pepper
Want More?
Follow us for health and recipe tips
Instructions
Preheat oven to 375 F. Wash and trim the ends of asparagus and lay on a pan. Cover evenly with olive oil, lemon juice, garlic and pepper.
Cook for 5 minutes. Then turn over and cook for an additional 5 minutes or until lightly golden.
More Recipes
Discover more delicious recipes like this one.