This ginger peanut sauce is delicious! Unlike most recipes you'll find on the Internet, it contains no added sugars—just a few pitted dates!! Add a little hot peppers or hot sauce to spice yours up— or enjoy as is!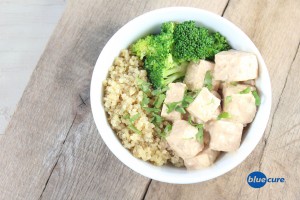 Ingredients
3 tbsp unsweetened peanut butter
2 tsp low sodium soy sauce (or Braggs Amino Acids)
2 tsp minced ginger
2 tsp minced garlic
1 tbsp date paste or 2 pitted dates*
2- 15 oz can chickpeas or 1- 14-16 oz package of  extra firm organic tofu
1 cup uncooked quinoa (or brown rice)
2 cups water
2-4 cups raw broccoli
Want More?
Follow us for health and recipe tips
Instructions
Combine 2 cups water and 1 cup quinoa in a sauce pan and bring to a boil. Reduce the heat once boiling, and then cover the pit to allow the rice to simmer for about 15 minutes.
In a bowl, mix peanut butter, soy sauce, and date paste. Add water to thin, as needed. *If using pitted dates, blend pitted dates, peanut butter, dates, and ~1/4 cup water. Add more water as needed.
In a pan, sauté the mince garlic and ginger. Add this to the peanut sauce.
If using tofu, sauté the tofu first until it starts to brown a bit, then add the peanut sauce. Pour peanut sauce over diced tofu or chickpeas and sauté on low heat for 2-5 minutes.
Wash and chop the broccoli. Sauté in pan until final texture.
Finally, layer all the ingredients on a bowl or plate. Top with fresh cilantro, if desired.
Note: You don't need to use oil to sauté. Try using a small amount of water. Start with about 2 tbsp- 1/4 cup and add more as needed during the cooking process. Avoid using too much water right away, as this will make the food mushy.
More Recipes
Discover more delicious recipes like this one.