If you love pumpkin pie, then you'll love this recipe! Dessert for breakfast, why not!? This pumpkin pie is sweet, creamy, and comforting.  All the flavors of fall in one meal: pumpkin, cinnamon, nutmeg, cloves, and apples.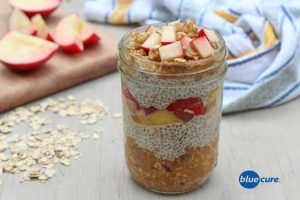 Prep this the night before so it's ready to eat in the morning– quick and easy! Or make it the day of– you'll just have to patiently wait to indulge in breakfast! Heat it up or serve it cold, both are great!
Ingredients
1 1/3 cup oats
1 can of pumpkin (15 oz) or 1 1/3 cup
1 Tablespoon ground cinnamon
1/4 teaspoon ground cloves
1/4 teaspoon nutmeg
2-3 cups water
1/2 cup cashews or pumpkin seeds
2-3 pitted date(s) (optional)
4 Tablespoons chia seeds
2 small/ medium apples
1/4 cup walnuts or pumpkin seeds (optional)
Want More?
Follow us for health and recipe tips
Instructions
In a bowl, combine the oats, pumpkin, 1 cup water, cinnamon, cloves, and nutmeg. Stir well and set aside.
In a blender, combine 2 cups water and 1/2 cup cashews. If using the dates to sweeten the oats, add them to the blender too. Pour the cashew milk into a bowl and combine with the chia seeds. Stir well. Set aside and allow the chia to set for ~10 minutes. (Note: for nut allergies, use pumpkin seeds instead and follow the same instructions).
Wash the apples and chop into small pieces. If using walnuts, lightly crush them with the back of a fork.
Once the chia is set, layer the oats, chia pudding, and apples in 4 jars or containers and top with walnuts or pumpkin seeds. (Note: you can also just mix everything together in one bowl rather than layering the ingredients). Enjoy!
More Recipes
Discover more delicious recipes like this one.