Orange miso salad dressing is sweet and tangy, yet refreshing and fairly light. Serve it over vegetables for a side salad  to your main meal, or add cooked quinoa, beans, and cooked potatoes.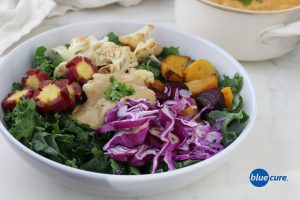 Ingredients
VEGETABLES:
2-4 cups chopped cauliflower
2-4 cups carrots
2-4 cups chopped beets
1-2 cups chopped red cabbage
4-8 cups greens (e.g. kale, spinach)
DRESSING:
¼ cup pitted dates or raisins
1 orange, peeled
1 teaspoon white miso paste
½ teaspoon garlic powder
½ teaspoon ginger powder
2 tablespoons cashews or pumpkin seeds
¼ cup water, or more as needed for thinning
Want More?
Follow us for health and recipe tips
Instructions
Preheat the oven to 400F. Wash and chop the veggies. Roast the beets, cauliflower, and carrots for 20-30 minutes. The beets may need up to 40 minutes.

Combine all the dressing ingredients in a high speed blender. Blend until smooth.

In a bowl, combine the roasted veggies, greens, and the dressing. 

Add in cooked quinoa and beans to make a meal. Enjoy!
More Recipes
Discover more delicious recipes like this one.