This smoothie is packed ingredients that may help prevent prostate cancer. Oranges have antimicrobial properties that help to boost the immune system. Blueberries and strawberries are packed with antioxidants, which also can help protect the body against cancer. Flaxseeds may also help prevent prostate cancer in men and breast cancer in women. Even for men with prostate cancer, adding ground flaxseed to the diet may help reduce cancer cell growth.  A diet rich in spices, like turmeric, may help to lower cancer risk.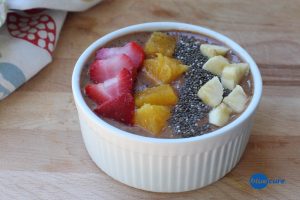 Studies show men obtaining more of their protein from plant-based sources, such as beans, have lower risk of prostate cancer. Men with prostate cancer eating more protein from plant sources have a better chance of reducing cancer progression compared with men eating more protein from animal sources. This makes beans a great protein option!
Beans in a smoothie? I know it sound odd, but people use soy milk– why night use bean milk? Whole beans retain more of their nutrients so they are more desirable to use than plant-based milk. Plus, they are packed with protein! A 1/2 cup of beans has between 6-8 grams of protein.
Ingredients
2 oranges (peeled)
1 large frozen bananas
1/2 teaspoon turmeric
pinch of black pepper
2 tablespoons ground flaxseed
1 cup cooked great northern beans (or 1 cup unsweetened plant-based milk)
1 cup of frozen berries
Water (as needed for thinning the beans)
Ice
Optional Toppings:
Berries
Chia seeds
Orange slices
Coconut flakes
Banana slices
Want More?
Follow us for health and recipe tips
Instructions
Drain and rinse the beans if using canned beans.
Add all of the ingredients to the blender. Blend until smooth. Add in ice as needed.
Pour into cups or bowls and top with optional toppings. Enjoy!
More Recipes
Discover more delicious recipes like this one.