This lemon-tahini, sundried tomato quinoa salad is creamy, savory, and zesty– a perfect summer salad.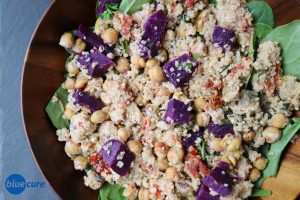 The purple sweet potatoes not only pack in the antioxidants, they also add pizzazz to the meal! The chickpeas are a great source of protein and fiber, and when roasted, they give a nice crunch to the salad. The tomatoes are a good source of lycopene, a nutrient that may be especially beneficial for men.
Leftovers of this dish are great– and can make for quick-and-easy lunches or dinner the next day.
Ingredients
1-2 large purple or orange sweet potatoes
3 cups cooked chickpeas
1 cup dry Quinoa
⅓ cup unshelled pistachios
½ cup sundried tomatoes, dried or water-packed
3 Tablespoons lemon juice
2 Tablespoons tahini
Pepper, to taste
4-6 cups spinach or chopped kale
Want More?
Follow us for health and recipe tips
Instructions
Preheat the oven to 400F. Wash the sweet potatoes and place whole on a baking sheet. Bake the sweet potatoes for 30-35 minutes, or until tender all the way through the potato. Once the potato is finished, allow it to cool and then chop.

Line a pan with parchment paper and spread out the chickpeas on it. Roast the chickpeas for ~30 minutes.

In a saucepan, combine quinoa with 2 cups water. Bring the water to a boil and then reduce to medium-heat. Cover the quinoa and cook for 15 minutes. Add in the pistachios, tomatoes, lemon juice, tahini, pepper, and greens. Stir until well combined, reduced the heat and cook on low-heat for an additional 5 minutes with the cover on.

Serve the quinoa with the sweet potato and top with crunchy chickpeas. *Optional to chill the quinoa salad before serving. Enjoy!
More Recipes
Discover more delicious recipes like this one.