Smoothies can make a quick and easy way to get in extra fruits and vegetables throughout the day. They are also a great alternative to sugary drinks or desserts. Fueling-up with phytonutrient, fiber-rich plant foods is key for cancer prevention. Plus, it tastes good too!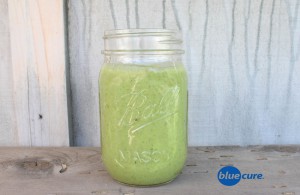 Ingredients
3 cups of chopped kale (remove the stems)
1 frozen banana
0.5-1 cup of frozen pineapple chunks
1 ripe pear
1 orange
1 cup of green grapes
1 cup non-dairy, unsweetened milk (e.g. coconut, almond, soy, hemp)
1-2 Tablespoon ground flax (or equivalent amount of any nut/seeds)
Want More?
Follow us for health and recipe tips
Instructions
Put all the ingredients in a blender and blend until smooth. Pour into cups and enjoy!
Notes:
Add ice as needed to make cold, but usually if using frozen banana and pineapple it's not needed. Frozen grapes can also make it better!
For additional nutritional benefits, try adding 1/4 cup cashews to the mix. This will also make it extra creamy.
Add water as needed to thin out smoothie. Depending on the type of blender and consistency preference the amount of liquid added will vary a bit. Just do what works for you!
More Recipes
Discover more delicious recipes like this one.