Avocado and grapefruit make a delicious duo, balancing each other out with their tastes and textures. This salad is so light and refreshing, perfect for a spring or summer side dish.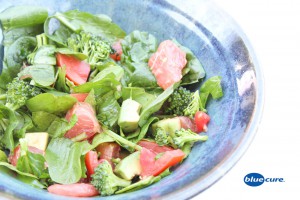 Ingredients
1 large grapefruit , cubed
1 large tomato, sliced
1 medium avocado, cubed
1 cup broccoli, chopped
6-8 cups of fresh spinach (or other preferred greens)
2-3 Tbsp balsamic vinegar
1 Tbsp olive oil (optional)
Pepper to taste (optional)
Want More?
Follow us for health and recipe tips
Instructions
Wash the fruit and vegetables.
Slice the tomatoes. Peel and cube the avocado and grapefruit into 1-2 inch chunks.
Mix the balsamic and olive oil.
In a bowl, combine the greens, fruit, vegetables, and the vinaigrette. Add more dressing, as needed. Toss together.
Serve with soup, veggie sandwiches, or lentil pesto pasta.
More Recipes
Discover more delicious recipes like this one.