The day has finally arrived that Ben & Jerry's now carries a dairy-free line of ice cream— and it's good! Unfortunately, just because it's dairy-free and vegan, does not make it a health food. It's definitely a treat that should be reserved for special occasions— not daily indulgences.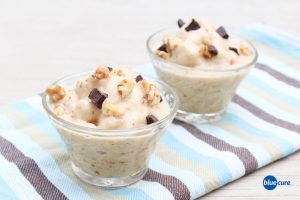 Funky Monkey Nice Cream was inspired by the new non-dairy, Chunky Monkey ice cream from Ben & Jerry's. It's made from bananas, sweetened with dates, and topped with walnuts and unsweetened chocolate. A great, healthy alternative that contains naturally occurring sugars from fruit —and not from refined sugars like store bought ice cream.
So go ahead, kick-your feet up and enjoy this delightful treat!
Ingredients
2 Tbsp- 1/4 cup walnuts (chopped)
2 Tbsp- 1/4 cup unsweetened dark chocolate bar pieces or cacao nibs*
2 large frozen bananas
2 pitted dates (optional)
1/4- 1/2 cup unsweetened soymilk or other plant-based milk (optional)
1.5 tsp vanilla extract
1-2 cups ice (optional)
Want More?
Follow us for health and recipe tips
Instructions
Chop the walnuts. If using a cocoa bar, cut into pieces. You can also swap in cacao nibs, if desired.
Remove the pits from the dates. If the skin is still on the bananas, run them under warm water to help wash of the banana peels.
In a blender combine the dates, soy milk, ice, bananas, vanilla extract, and blend until smooth and thick like ice cream.
Pour into dishes and top with chocolate and walnuts. Serve immediately. Otherwise put into a container and let it freeze.
Note: You can also just blend together 2-3 frozen bananas without the dates, soy milk, and ice. Top with walnuts and chocolate pieces.
More Recipes
Discover more delicious recipes like this one.