Chill-out with this sweet frozen treat! Cherries are an antioxidant-packed fruit that also makes for a great afternoon pick-me-up! Go ahead, give it a try!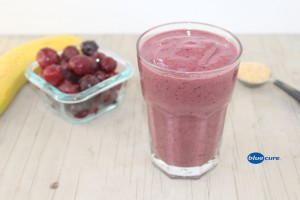 Ingredients
1-2 cups frozen pitted cherries
1 frozen banana
1 cup unsweetened plant-based milk (e.g. soy, almond, flax)
1-2 Tbsp ground flax seed
Ice (optional)
Want More?
Follow us for health and recipe tips
Instructions
Blend all ingredients together and pour into glasses. Enjoy!
More Recipes
Discover more delicious recipes like this one.