Swap out the fries, for these healthy, homemade veggie fries using eggplant and whole grain crust. Fried and deep fried foods may increase risk for cancer, including prostate cancer. So it's important to eat less fried foods, and use better cooking methods other than frying. Try baking, roasting, and steaming food rather than frying. Homemade baked fries can be delicious; give it a try!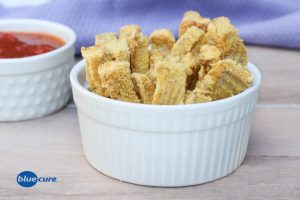 Ingredients
Fries:
1 medium eggplant
3 Tablespoons ground flax
1/4 cup water
1 cup cornmeal or whole grain bread crumbs
1 -2 Tablespoon nutritional yeast
1-2 teaspoons garlic powder
1/2- 1 teaspoon black pepper
1/2 teaspoon cayenne pepper (optional)
Sauce:
2 tomatoes
1 can of tomato paste (6 oz)
1 teaspoon garlic
2 Tablespoon basil
1 cup water
Want More?
Follow us for health and recipe tips
Instructions
Preheat oven to 425F and line a pan with parchment paper.
Wash the eggplant. Cut off the stem of the eggplant and discard. Slice the eggplant into thin strips (about 1- 2 inches thick).
In a bowl, combine the flax and the water. Set aside.
In another bowl, combine 1/2 cup of cornmeal with 1 tablespoon nutritional yeast, 1 teaspoon garlic, and 1/2 teaspoon of black pepper. Mix until evenly distributed.
Dip the eggplant in the flax mixture. Then over a clean bowl, use a spoon to sprinkle the cornmeal mixture over. Sprinkle until the eggplant is fully coated. Place the eggplant on the parchment paper and repeat until all the eggplant is used. If you run short on cornmeal, combine additional cornmeal with nutritional yeast, garlic, and pepper as needed.
Bake the fries for 15-20 minutes or until desired texture.
While the fries are baking, wash and chop the tomatoes. Dice into small pieces to allow it to cook down easier.
In a saucepan, combine the tomatoes, tomato paste, spices, and water. Stir and then heat on medium-high heat until the sauce boils and then reduce to a simmer. Stir often to avoid burning. *Cook until tomatoes have reduced to a sauce or leave the tomato pieces whole.
Allow the sauce to cool and then serve with the eggplant fries. *Use any leftover sauce to top on spaghetti squash and bean balls.
Enjoy as a side dish to homemade veggie burgers, veggie sandwiches, or salads.
More Recipes
Discover more delicious recipes like this one.