These perfectly roasted dill carrots are a tasty side dish for nearly any meal! Serve them warm or cold, toss them onto salads, or enjoy them on their own as a tasty afternoon snack. If you aren't a big fan of dill, no worries! Coat the carrots and any dried herbs you like– or just roast them with a dash of oil. Carrots will become sweet as they are allowed to cook— you may even start to believe they taste a bit like candy!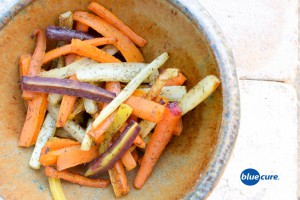 Ingredients
6-8 large carrots
1-2 tsp dried dill
1-2 tsp extra virgin olive oil or avocado oil
Want More?
Follow us for health and recipe tips
Instructions
Preheat oven to 400 F. Wash and cut the carrots.
Lay the carrots on a pan or baking dish. Pour the olive oil and dill over the carrots and coat evenly.
Place the pan in the oven and cook for 30-40 minutes ( or until desired texture). Be sure to stir often.
More Recipes
Discover more delicious recipes like this one.