Many Indian dishes use the nutritious spice, turmeric.  Cooking more curries and eating more traditional Indian dishes is a tasty way to utilize this potent spice.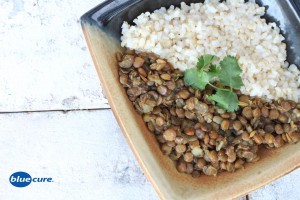 Ingredients
2 cups water
1 cup green lentils
1 onion, chopped
1 clove garlic, chopped
1 teaspoon fresh ginger, minced, or ginger powder
2 teaspoons soy sauce
1 teaspoon curry powder
1 teaspoon turmeric
1 teaspoon black pepper
1 teaspoon cumin
Want More?
Follow us for health and recipe tips
Instructions
If serving with brown rice, start preparing the rice first.
Chop the onions, mince the garlic and ginger. Sauté all the spices with olive or avocado oil for 5 minutes using a medium sauce pan with a lid. Stir occasionally.
Measure the lentils and rinse well. Add the lentils and  water to sauce pan with the onions, garlic, ginger, and spices. Bring to boil and cover for 35-40 minutes on low-heat. The water should "cook out" just like when cooking rice. Remove from heat and let cool.
Serve over brown rice. Pair with steamed or sautéed veggies or a green leafy salad.
More Recipes
Discover more delicious recipes like this one.