Trust us, the first time we made this recipe and shared a bit with our friend, he asked us, "What kind of cheese is that? It tastes like…." As he continued to the grapes trying too figure out what it was, we both laughed a little. Did we just trick our friend into believing he was eating cheese? The funny thing is we didn't even tell him it was cheese! So there you have it, cashew cream is probably the world's greatest replacer for most cheeses.
Don't be frightened by this tasty little creamy grape treat! It's actually a delightful dessert replacement that uses only healthful, whole food ingredients.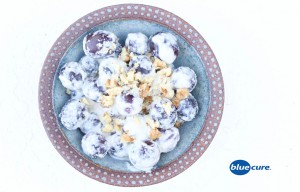 Ingredients
4-6 cups of grapes
¼ – ½ cup cashew cream (or more as desired)
1/4 toasted walnuts (crushed)
Want More?
Follow us for health and recipe tips
Instructions
See instructions for cashew cream.
Pour over washed grapes and mix until all grapes are coated.
Chill in the fridge for several hours. Top with toasted walnuts.
More Recipes
Discover more delicious recipes like this one.