Creamy beet soup is a crowd pleasure— even dudes like this magenta beauty!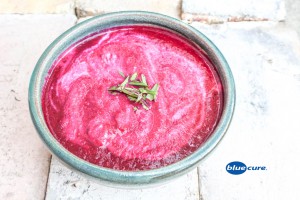 Ingredients
1 large yellow onion
3 cloves garlic, minced
3 large red beets, washed and peeled
3 cups water
1/3 cup cashews*
Salt and pepper (to taste)
Top with cilantro or mint leaves
Want More?
Follow us for health and recipe tips
Instructions
Put cashews in a bowl with warm water. Allow them to soak while cooking.
Using a small amount of water or 1 tsp olive or avocado oil, saute the onions and minced garlic.
While sauteing, wash and peel the beets. Boil until tender.
In a blender, combine the garlic, onion, cooked beets, cashews, and water. Start with less water and add more as needed. Blend until smooth.
Note: * For nut allergies, omit the cashews and use 1/2 – cup canned coconut milk for a creamy beet soup. If using this variation, start with less water and add more as needed.
More Recipes
Discover more delicious recipes like this one.