This chickpea sweet potato bake uses only plant-based ingredients to make it creamy and savory. It combines sweet potatoes, chickpeas, vegetables and tahini for a well-balanced meal of healthy fats, proteins, and carbohydrates.
Tahini is a sesame seed butter that provides healthy fat, protein, and fiber. It makes for a great sauce and dressing when paired with lemon, pepper, and herbs. Chickpeas are an excellent protein choice to pair with meals, as they are versatile and a bean with relatively neutral and nutty flavor. Per cup, chickpeas provide 14.5 grams of protein. Surprisingly, vegetables also provide some protein to meals. For example, 1 cup of chopped broccoli has about 3 grams of protein.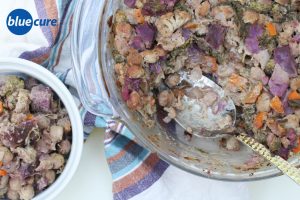 Per serving  (1/4 the recipe) there is ~20 grams of protein and 19 grams of fiber in this dish.
Ingredients
1 onion, chopped
3 cups purple or orange sweet potatoes, chopped
2 cups broccoli, chopped
2 cups cauliflower, chopped
1 bell pepper, chopped
4 cups spinach or chopped kale
½ cup tahini
¾ cup water
1 lemon, skin and seeds discarded
1-2 teaspoons garlic powder
2 tablespoons thyme
1 tablespoon parsley
1 teaspoon ground sage
Black pepper, to taste
1 tablespoon nutritional yeast (optional)
Pinch of cayenne (optional)
3 cups cooked chickpeas
Want More?
Follow us for health and recipe tips
Instructions
Preheat the oven to 350. Wash and chop the veggies. Saute the onion in a pan with 1-2 tablespoons of water until the onions are translucent. Add the sweet potatoes. Continue to saute until the potatoes start to soften. Add the broccoli and cauliflower. Add more water as needed to keep the veggies from sticking. Add the pepper and the greens. Reduce the heat.

In a blender, combine the tahini, water, lemon, garlic powder, thyme, parsley, sage, black pepper, nutritional yeast, and cayenne. Blend until smooth.

Pour the tahini dressing and chickpeas into the pan and stir until the veggies are well coated with the sauce. Pour the veggies into a baking dish and bake for 30-40 minutes or until the potatoes are soft.

Allow the dish to cool, then serve as is or over more greens. Add in some cooked quinoa for more healthy plant-protein and carbohydrates.