This butternut- squash wild rice salad is light and delicious. It's packed with nutrients and flavor, and not shy on the veggies. Perfect for fall and winter holidays— or even just weekday meals. For those that celebrate Thanksgiving, this dish is a perfect complement to any Thanksgiving meal.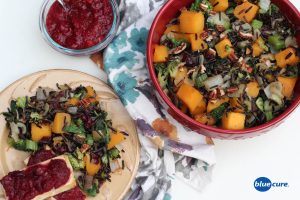 Pictured here is butternut squash- wild rice salad with cranberry-baked tofu. If you plan to make this dish a main course, add in some beans for additional plant-protein.
Ingredients
1 cup wild rice
3 cups water
1 Tablespoon rosemary
3 cups butternut squash, cubed
1 large onion, diced
1.5 cups celery, chopped
2 cups broccoli, chopped
2 cups greens, chopped
1/3-1/2 cup  dried cranberries
2-3 teaspoons garlic powder
salt and pepper, to taste
1/2 cup walnuts or pecans, chopped
Want More?
Follow us for health and recipe tips
Instructions
Rinse the wild rice. Combine the rice, water, and rosemary in a sauce pan and bring to a boil. Once boiling, reduce the heat and cover the rice to cook. Allow the rise to simmer for ~40 minutes. Continue to cook until the rice kernels start to crack open.
Preheat the oven to 400F. Wash and chop the veggies. Line a baking sheet with parchment paper. Add the cubed butternut squash to the tray and bake for 30-40 minutes or until desired texture.
 Sauté the onion and celery with a splash of water until tender. Add in the broccoli and continue to sauté. Add more water as needed to keep the veggies from sticking. Finally, add in the greens, cranberries, garlic, and pepper.  Cook until the veggies are desired texture.
In a serving bowl, combine the rice, butternut squash, and veggies. Top with chopped walnuts or pecans and enjoy!
More Recipes
Discover more delicious recipes like this one.