Fall has officially arrived, and squash is now in season. Like sweet potatoes, butternut squash is packed with a cancer-fighting antioxidants called carotenoids. There are so many wonderful ways to use cooked squash: add it tacos, blend into soups, and roast and add to your favorite veggie dishes. In this salad, squash takes on the starring role. Pairing it with balsamic vinegar and seasoning brings out the dynamic taste squash provides; from sweet to savory. Enjoy this salad as a side dish or the main course. Prevention never tasted so good!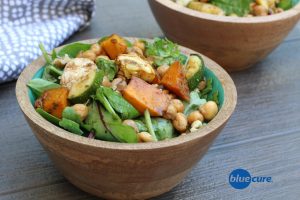 Ingredients
1 butternut or buttercup squash (or ~6 cups cubed)
1 teaspoon garlic powder
1 small head of cauliflower
2 small zucchini
2 cans of chickpeas (15 oz each)
8-12 cups of mixed greens or greens of choice (e.g. spinach, kales, arugula)
1/4-1/2 cup balsamic vinegar
1 teaspoon rosemary
1/4 teaspoon sage
2 teaspoons basil
1/2 teaspoon thyme
1 Tablespoon nutritional yeast (optional)
Want More?
Follow us for health and recipe tips
Instructions
Preheat the oven to 400F. Wash all the veggies.
Using a chef's knife, carefully slice the squash in half and remove the seeds. Cut off the skin of the squash and cube the squash into 3-4 inch cubes. Place the squash on a baking sheet with edges and then coat the squash with 2 Tablespoons of balsamic and 1 teaspoon of garlic powder. Bake in the oven for 25-30 minutes. Be sure to rotate often to avoid burning. (Option to just slice the squash in half, remove the seeds. Cook it for 10 minutes in the oven, then remove and allow it to cool for a few minutes. Once cooled remove the skin and chop into cubes and then cook for an additional 20 minutes).
Remove the stem from the cauliflower and break the cauliflower into pieces. Place on a baking sheet. Roast for 20-30 minutes without oil.
Chop the zucchini into quarter pieces add to a baking sheet. Drain and rinse the chickpeas and add to a baking sheet with edges. Roast both the zucchini and the chickpeas for 20-25 minutes. Rotate often to avoid burning.
In a small bowl, combine the rest of the balsamic vinegar, rosemary, sage, basil, thyme, and nutritional yeast. Wash the greens and add to a large bowl.
Once the veggies and beans are finished cooking, add to the bowl with the greens. Toss with the balsamic dressing, add more balsamic as needed. Top off with walnuts or pumpkin seeds and enjoy!
More Recipes
Discover more delicious recipes like this one.