Salads are not boring! In fact, they can be very enticing when you make them colorful by using a variety of veggies! You can make them satisfying and a complete meal by using whole grains (such as quinoa) or starchy veggies (like sweet potatoes), add in some plant-based protein (such as black beans, tofu, or tempeh), and topping it with a small amount of healthy fats (here we are using pumpkin seeds or cashews– and making them into a creamy ranch dressing). Salads that contain healthful, phytonutrient-rich ingredients and balanced with the macro-nutrients will be satisfying!
Concerned about getting enough protein? You shouldn't be– this salad  has 20 grams of protein for 1 serving! Plus, it's loaded with 17 grams of fiber! That's sure to fill you up!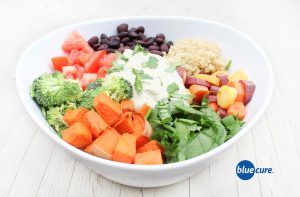 Note: If you are busy throughout the week and have little time for cooking, make a large batch of quinoa, sweet potatoes, and black beans on the weekend and use these in meals throughout the week. It's really easy to toss together healthy, balanced salads and then bring them with you for lunch or dinner's on a jammed-packed night.
Ingredients
1/2 cup uncooked quinoa (or 1.5 cups cooked)
1 cup uncooked black beans (or 1-15 oz can)
1 large sweet potato
½ cup cashews (or 1/2 cup pumpkin seeds)
1/2 – 1 cup water
½ teaspoon garlic powder
½ teaspoon onion powder
1.5 teaspoon dill
½ teaspoon celery seed
Black pepper (to taste)
¼ teaspoon cayenne (optional)* will make it spicy
1 teaspoon apple cider vinegar (optional)
1 large bell pepper (chopped)
2 cup carrots (chopped)
2 cup broccoli (chopped)
1 large tomato (chopped)
8-10 cups of spinach (or other green leafy veggie)
Want More?
Follow us for health and recipe tips
Instructions
Preheat oven to 350F. Wash and dice the sweet potato. Place it in the oven and cook until soft (30-40 minutes). *Option to also put the sweet potato in the oven whole. Allow it to cook for 10-15 minutes, then take it out and let it cool. Then dice the sweet potato and put it back in. This method is great for those who don't like dicing raw sweet potatoes.

Combine 1 cup water with 1/2 cup of uncooked quinoa. Bring to a boil and then reduce to medium heat. Allow to cook until the liquid has cooked off (~15 minutes).

If using the slow prep method, combine 1 cup uncooked black beans with 3 cups water. Bring to a boil and then reduce to medium heat until beans are soft (~30 minutes).

In a blender, combine the  cashews (or pumpkin seeds) with water, garlic powder, onion powder, dill, celery seed, salt and pepper. If using the cayenne and apple cider vinegar, you can add these too. (Note: the cayenne and apple cider will make the dressing taste a little less like ranch, but it's still tasty!) Start with less water and add more as needed. Blend the ingredients together until smooth.

Wash and chop the rest of the veggies. Layer all ingredients into 4 bowls. Toss with creamy dressing and serve!