This banana split smoothie bowl isn't like any other smoothie you've had before. It's naturally sweet, and it's secret ingredient is a cup of beans! That's right, beans!
Beans are a great source of both protein and fiber— and surprisingly, they add a nutritional-punch to your smoothie bowl without leaving a taste. Cannelloni beans (or any white bean) is best for lighter smoothies, while black beans are best with chocolate and peanut butter based smoothies.
Rather than grabbing for the protein powder next time you make a smoothie, give the whole food protein option–beans– a try!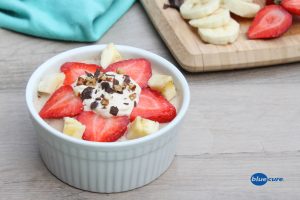 For 1/3 of the recipe* there are approximately 309 calories, 10 grams of protein, 6 grams of fat, and 12 grams of fiber. *banana and strawberries were only included in the analysis.
Ingredients
1 cup cooked cannellini or great northern beans
3 bananas (frozen works best)
1 Tablespoon cinnamon
2 tablespoons nut/seed butter (I used cashew butter)
2 teaspoons vanilla
ice (optional)
Optional Toppings:
banana slices
strawberry slices
100% cacao
crushed walnuts/ pecans
cashew whipped cream
Want More?
Follow us for health and recipe tips
Instructions
If using canned beans, rinse them well.
Prepare toppings (e.g. wash and slice the strawberries, slice the bananas, crush the walnuts). If using cashew whip cream, see instructions on the Whole Grain Waffle recipe.
Add the beans, bananas, cinnamon, nut/seed butter, vanilla, and ice to a blender. Blend until smooth.
Pour smoothie into bowls and add toppings. Enjoy!