This simple easy snack is packed with healthful fats and whole grains. Make it a meal by tossing on some mashed chickpeas or a tofu scramble!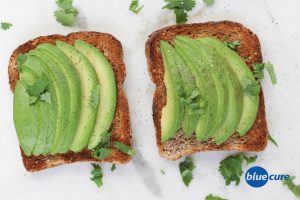 Ingredients
1-2 slices of whole wheat bread (e.g. Ezekiel Sprouted Bread)
1/2 avocado
Pepper and/ or crushed red pepper (to taste)
Want More?
Follow us for health and recipe tips
Instructions
Toast 1-2 pieces of whole grain bread.
Mash 1/2 an avocado and spread on toast.
Add pepper or crushed red pepper.
More Recipes
Discover more delicious recipes like this one.