Avocado pesto pasta is a simple, summer recipe that requires little cooking. Avocado has a rich and creamy texture, which makes it a great replacement for oils and creamer in traditional pesto and pasta salad dressing. Swap in lentil or bean noodles for extra plant-based protein and add more veggies as you please.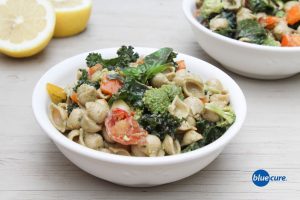 Ingredients
6-8 oz lentil, bean, or whole grain pasta noodles (elbow, penne, rotini, or shells)
1 cup cherry tomatoes (cut in half)
1 cup chopped broccoli
1 large bell pepper
1 large avocado
1 cup of fresh basil
1/2 Tbsp lemon juice
1/2 cup water
1/2 tsp granulated garlic
pepper to taste
Want More?
Follow us for health and recipe tips
Instructions
Cook the noodles following the instructions on the package. Once finished, set aside to cool.
Wash and chop the tomatoes, broccoli, and peppers. Add to a bowl with the noodles.
Cut open the avocado and remove the flesh with a spoon. Add to a blender with the basil, lemon juice, water, garlic, and pepper. Blend until smooth.
Pour the avocado pesto over the noodles and veggies and mix well.
Serve warm or chilled.
More Recipes
Discover more delicious recipes like this one.