These apple lentil patties are savory and sweet; a flavorful and healthy swap for sausage. Serve these patties with avocado toast, greens, and tomatoes for a hearty breakfast sandwich.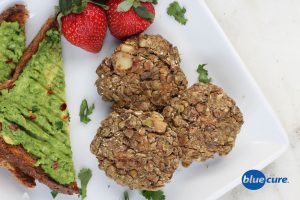 Ingredients
1 cup dry lentils
½-1 apple, diced into small pieces
½ cup oat flour*
¼ cup ground flaxseed
2 teaspoons garlic powder
4 teaspoons ground sage
2 teaspoons fennel seeds
½ teaspoon red pepper flakes
2 teaspoons thyme
*Can be prepared in a blender using oats
Want More?
Follow us for health and recipe tips
Instructions
Rinse the lentils. Combine with 3 cups of water. Bring to a boil, then reduce heat, cover, and simmer for 15-20 minutes or until tender.

Preheat the oven to 350F.

Dice the apple and prepare the oat flour, if not done already.

In a bowl, mash the cooked lentils with a fork. Add the oat flour, ground flaxseed, garlic powder, sage, fennel seeds, red pepper flakes, and thyme. Stir until well combined. Fold in the apple pieces, start with ½ the apple and add more as desired.

Form the batter into ~12 smaller patties and place them on a pan lined with  parchment paper. Bake for 20-25 minutes or until desired texture.

Allow to cool and then enjoy!
More Recipes
Discover more delicious recipes like this one.