Healthy eating doesn't have to be complicated, nor does it have to take a lot of time. It may be as simple as chopping a few veggies, opening & rinsing a can of beans, and layering them on a tortilla shell. Easy, peasy 5 minutes to a delicious and satisfying lunch or dinner.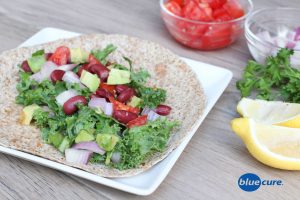 Ingredients
1/2-1 cup cooked black beans (or 1/2 cup refried beans + 1/2 cup black beans)
1 small tomato (chopped)
cilantro (chopped)
Romain lettuce (chopped)
1 whole wheat tortilla or 2 small corn tortillas
1/4- 1/2 sliced avocado
Salsa
Want More?
Follow us for health and recipe tips
Instructions
Wash and prep tomato, cilantro, and lettuce. Warm up the tortilla shell, if desired.
Combine the ingredients and serve on a whole grain tortilla or corn tortillas.
More Recipes
Discover more delicious recipes like this one.