Posted by Michael David on June 8, 2013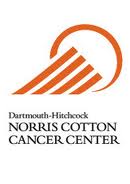 Norris Cotton Cancer Center
Dartmouth-Hitchcock Medical Center
Mark A. Israel, M.D.
Director
One Medical Center Drive, Hinman Box 7920
Lebanon, New Hampshire 03756-0001
Tel: (603) 653-9000
Fax: (603) 653-9003
Norris Cotton Cancer Center in Lebanon, New Hampshire, combines advanced cancer research at Dartmouth Medical School and Dartmouth College with patient-centered cancer care at Dartmouth-Hitchcock Medical Center. Established in 1972 through the initiative of U.S. Senator Norris Cotton (NH), the center received NCI designation as a Clinical Cancer Center in 1978 and as a Comprehensive Cancer Center in 1990. One of the nation's few rural centers, Norris Cotton Cancer Center provides access to research-based care and clinical trials for patients throughout northern New England, working in partnership with local community hospitals and through regional centers in southern New Hampshire and northeastern Vermont.
Norris Cotton Cancer Center's 135 member investigators drive more than 290 active research projects in six research programs to further our quest to understand the causes of cancer, find more effective and less toxic therapies to treat cancer, and promote ways to prevent cancer before it starts. Our interdisciplinary clinical programs involve physicians and scientists to speed the translation of discovery into advanced clinical applications. More than 90 cancer specialists work in teams to treat patients with all types of cancer, using the latest technology in diagnostics, imaging, medical, radiation and surgical oncology, bone marrow transplantation, and immunotherapy. Research in psycho-oncology, palliative care, and genetic counseling is integrated into patient care, and oncology nurses and cancer care professionals coordinate patient services and support.
About the Prostate Cancer Program
Our Prostate Cancer Program provides comprehensive care from diagnosis and biopsy to determination of the best type of treatment for each patient. The program is a major referral destination for second opinions, and reviews patient cases at regular group meetings where doctors from several disciplines-surgery, radiation therapy, medical oncology, and pathology-work together to determine the treatment protocol to achieve the best possible outcome for each patient.
We see our mission as encompassing education about the disease and comprehensive diagnosis and testing techniques that help determine the correct treatment for each individual–whether the prostate cancer is local to the prostate and requires surgery or radiation treatment, whether the cancer has spread and requires chemotherapy or immunotherapy, or whether observation is the best treatment.
*Source: National Cancer Institute