Nutritional Information for Apples
"AN APPLE A DAY KEEPS THE DOCTOR AWAY" so why not load up on 3 per day? Eating more whole fruit is one of the best ways to help prevent cancer. Apples are bursting with antioxidants.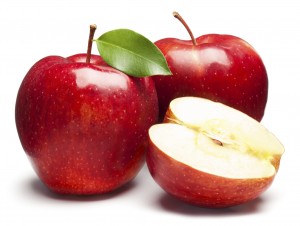 Benefits of Apples
Cancer Prevention Benefits
Many cell studies have taken compounds from apples and tested them against different cancer cell lines. Pink lady apples in particular contain flavonoids that can reduce oxidation, as well as cancer growth in the colon and breast cancer cells. It appears that the peel of the apple has the most antioxidant power, which makes sense because the bright pink colored skin reveals its potency. Other apples, like crabapples, have been found to target lung, liver, and colon cancer cells. Large population studies have found that men who eat more fruits and vegetables may have less risk of overall cancer.
Men's Health Benefits
Men grubbing on a variety of plant foods, including apples, may have a much lower risk of developing type 2 diabetes. Here is the breakdown of plant foods and amounts eaten per day: one-third of a small apple, ¼ cup of cabbage, ⅛ cup oatmeal, 3.5 slices or more rye bread and just a little more than half of a small carrot. By taking all of these steps, men reduced chances of getting diabetes by 38%. Now that is certainly not many fruits and vegetables! Apples also seem to help lower cholesterol and have a fat-burning effect. Both the fiber and polyphenols from apples have been tested separately and appear to help lower cholesterol. In women, apple-eaters tend to live longer.
Ways to Use Apples
Whole fruit is always best and there's nothing wrong with eating whole apples. Sometimes the very thought of chompin' into a big apple is just too much. I bet you money if it were cut into pieces and set out more in the house everyone would eat more apples! Try cutting them and leaving in the fridge.

Dip in peanut butter or another nut butter (almond, cashew, etc.

Make a fruit salad with leftovers.

 Slice and place in dehydrated to make Apple Chips.
Add thinly sliced apples to a green salad.
Cook apples with pitted dates, cinnamon, and a small amount of water. Use this for an oatmeal topping or enjoy it on it's own!
Citations
Hodgson JM, Prince RL, Woodman RJ. et al. Apple intake is inversely associated with all-cause and disease-specific mortality in elderly women. Br J Nutr. 2016;20:1-8.

Boffetta P, Couto E, Wichmann J, et al. Fruit and vegetable intake and overall cancer risk in the European Prospective Investigation into Cancer and Nutrition (EPIC).J Natl Cancer Inst. 2010;102(8):529-37.

Yang S, Zhang H, Yang X, Zhu Y, Zhang M. Evaluation of antioxidative and antitumor activities of extracted flavonoids from Pink Lady apples in human colon and breast cancer cell lines. Food Funct. 2015;6(12):3789-98.

Qin X, Xing YF, Zhou Z, Yao Y. Dihydrochalcone Compounds Isolated from Crabapple Leaves Showed Anticancer Effects on Human Cancer Cell Lines. Molecules. 2015;20(12):21193-203.

Lacoppidan SA, Kyrø C, Loft S, et al. Adherence to a Healthy Nordic Food Index Is Associated with a Lower Risk of Type-2 Diabetes–The Danish Diet, Cancer and Health Cohort Study. Nutrients. 2015;7(10):8633-44.

Nagasako-Akazome Y, Kanda T, Ohtake Y, Shimasaki H, Kobayashi T. Apple polyphenols influence cholesterol metabolism in healthy subjects with relatively high body mass index. J Oleo Sci. 2007;56(8):417-28.

Chai S, Hooshmand S, Saadat R, et al. Daily apple versus dried plum: impact on cardiovascular disease risk factors in postmenopausal women. J Acad Nutr Diet. 2012;112(8):1158-68.