Posted by Gabe Canales on May 17, 2016
By: Alexander Pastuszak, M.D., Ph.D.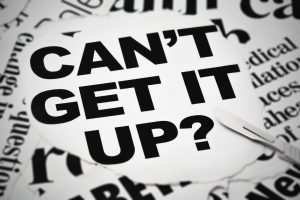 Prostate cancer can be a real downer for a man's erections, both literally and figuratively.  The stress that comes with a diagnosis of prostate cancer can impact a man's ability to have an erection, and even having a prostate biopsy to diagnose cancer can increase one's risk of erectile dysfunction (ED) [1].  Treatment of prostate cancer, whether surgical or via radiation therapy, can also result in ED.  The good news is that no matter what a man's erectile function status is, there's a good chance that it can be improved with treatment.
Things to Know About Erectile Function if You Have Prostate Cancer
1. It's natural to be anxious about your prostate cancer diagnosis.
You've just been diagnosed with the big "C." Of course it's natural that you're going to be anxious.  Studies have shown that men with a diagnosis of prostate cancer, regardless of how it's treated, have distress, and that this correlates with decreased sexual function [2].  However, it's important to know that after treatment, or even if you opt for active surveillance, this distress can resolve and your quality of life can improve.  Some studies suggest that, particularly in men less than 55 years old, sexual function can approach what it was before treatment [3].
2. Whether and how your prostate cancer is treated can impact your erectile function long after treatment.
Choosing whether and what kind of prostate cancer treatment you receive is important not only in determining your cancer outcome, but also with regards to determining your sexual function after treatment.  For example, men who undergo surgical removal of the prostate often experience either temporary or permanent ED after treatment.  This is because the cavernous nerves, which are necessary for erectile function, wrap around the sides of the prostate and can be stunned or destroyed during surgery.  The extent of injury can relate to how extensive your cancer is and how much surrounding tissue the surgeon needs to remove, but can impact your erections for a long time to come.  As a patient, however, you need to be patient, understanding that your erectile function may take up to 12 months after surgery to return to its pull post-operative potential, and may only be sufficient for sex ~50% of the time [4].  In contrast, if you choose radiation therapy, your erections immediately after treatment may be fine, but over the coming 6-18 months may get worse because of the slow effects of radiation on the penile tissues.
3. Almost all men with ED can be successfully treated
Perhaps the most important point to make to men with prostate cancer who are concerned about their erectile function is that good treatment options exist, and almost all men are treatable.  However, it's important to understand that your erectile function with medical or surgical therapy for ED may not be the same as before your ED began.
Treatment
There are many effective treatments for ED, which include 1) oral medications, such as Viagra, Cialis, Levitra, and Stendra and supplements; 2) penile injections, such as Trimix and Caverject; 3) vacuum erection devices; and 4) penile prostheses.
For most men with ED, treatment starts with oral medications, usually a phosphodiesterase-5 inhibitor (PDE5i) such as Viagra, Cialis, Levitra, or the recently released Stendra.  Men can also choose from several dietary supplements, including DHEA, L-arginine, L-carnitine, and ginseng.  All of these can improve erectile function to some extent, though often not as dramatically as PDE5i's.  For men who fail oral therapies, penile injections using drugs that increase penile blood flow may be effective.  The most common medication used in our practice is Trimix, a mixture of alprostadil, phentolamine, and papaverine. Vacuum erection devices cause an erection as a result of negative pressure from a vacuum placed on the penis.  The erection is maintained using a ring that is then placed at the base of the penis after the vacuum device has been removed.  For some men, this is a good treatment option.  However, many men don't have a lasting erection using this device, and the ring at the base of the penis can be uncomfortable.
The final treatment option for ED, which is used in men who do not benefit from medications, is surgical placement of a penile prosthesis.  There are several types of penile prostheses, but the most common type currently used in the U.S. is an inflatable version with a pump located in the scrotum to permit on-demand erections. While more than 85% of men are satisfied with the results of the surgery, it's important for a man to know that having an artificial erection using a prosthesis is not the same as having a normal penile erection [5].
"Erectile Preservation"
While there is no good way to "prevent" ED after treatment of prostate cancer, there may be ways to minimize the damage from treatment so as to maximize recovery, and are most commonly used after surgery for prostate cancer.  These approaches to "erectile preservation" include post-surgical daily therapy with low-dose Cialis or Viagra, treatment of any hormone deficiencies, as well as penile injections or use of a vacuum erection device.  While there are good data on a cellular level that PDE5i's and hormone like testosterone help with erectile function, these data have not yet translated to clinical practice.  However, few good studies of the above approaches have been performed, so hope remains that "erectile preservation" may be feasible.
The Future:
Now that you have a good idea of the current state of the art in ED treatment, consider what the future holds.  Ultimately, restoring normal erectile function without the need for drugs would be ideal, and some gene therapies that may reverse the consequences of anatomic and physiologic changes leading to ED have demonstrated promising results in animal tests.  Stem cell therapies for ED are also beginning to yield positive findings, and there are also numerous medications in the pipeline, which include topical versions of the vasodilating drugs in Trimix, which could make injections into the penis a thing of the past, and newer versions of PDE5i's that men could use more frequently and with fewer side effects.
The bottom line, and the take home message here is, if you have difficulty with erections, particularly after prostate cancer treatment, there are many treatment options available for you.  However, the sooner you talk to your urologist about your erectile function, the more likely you are to arrive at an effective treatment regimen.
Whitson, J.M., K.S. Murray, and J.B. Thrasher, Prostate Biopsy is Associated with an Increased Risk of Erectile Dysfunction. J Urol, 2016.
Punnen, S., et al., A longitudinal study of anxiety, depression and distress as predictors of sexual and urinary quality of life in men with prostate cancer. BJU Int, 2013. 112(2): p. E67-75.
Wright, J.L., et al., Quality of life in young men after radical prostatectomy. Prostate Cancer Prostatic Dis, 2008. 11(1): p. 67-73.
Carlsson, S., et al., Oncologic and functional outcomes one year after radical prostatectomy for very low risk prostate cancer. Results from the prospective LAPPRO trial. BJU Int, 2016.
Menard, J., et al., Erectile function and sexual satisfaction before and after penile prosthesis implantation in radical prostatectomy patients: a comparison with patients with vasculogenic erectile dysfunction. J Sex Med, 2011. 8(12): p. 3479-86.
Follow Dr. Alexander W. Pastuszak on Twitter: https://twitter.com/apastusz
About Alexander Pastuszak, M.D., Ph.D.
Alexander W. Pastuszak, MD, PhD, is a urologist at the Scott Department of Urology at Baylor College of Medicine, specializing in male reproductive and sexual dysfunction. He earned his medical and graduate degrees from the University of California, San Francisco. He then completed his internship in general surgery and residency training in urology, as well as a fellowship in male reproductive medicine and surgery, at Baylor College of Medicine. Dr. Pastuszak specializes in microsurgical and medical approaches to male infertility and medical and surgical treatment of male sexual dysfunction. His research interests lie in understanding the clinical, molecular, and genetic factors that contribute to male infertility and sexual dysfunction, with a focus on the genetic factors causing male infertility and Peyronie's disease.