The World Health Organization recently classified processed meat— including bacon— as a carcinogen to humans. Unfortunately, the research does not distinguish between nitrite-free and regular bacon nor does it distinguish between turkey bacon and regular bacon.
There is good news plant-based bacon alternatives exist—and they are so delicious! Tempeh bacon is packed with flavor and tastes excellent on a sandwich. Never had tempeh before? Well, it's a fermented soybean product, a healthful alternative to bacon. Give it a try!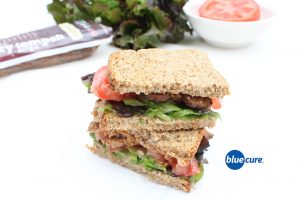 Ingredients
8 slices of whole grain bread
Vegan mayo or homemade cashew mayo*
1-2 large Tomatoes (sliced)
1 medium onion (optional)
1 package of tempeh bacon (or other meatless bacon)
Romaine lettuce or spinach
1 avocado (optional)
Want More?
Follow us for health and recipe tips
Instructions
Toast the bread. Wash and slice the veggies.

On a skillet, warm the meatless- bacon until reached desired texture.

If making homemade mayo, blend the ingredients together until smooth.

Layer ingredients on the bread. Serve with a side of fresh fruit.
More Recipes
Discover more delicious recipes like this one.